Teaser Tuesdays On a Non-Tuesday
Today's (or actually tomorrow's) teaser is from my YA Contemporary novel
Playing the Field
.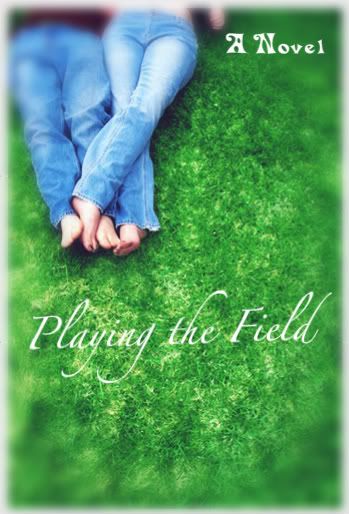 Greg did better than fine. He owned the field. The other team had nothing on him. My throat was burning and raw, from all the screaming I was doing. I waved my foam thumb in the air, and Marnie rolled her eyes.
"What?" I asked.
"You're such a guy sometimes. I don't even understand half of what's going on."
"We're winning, that's all you need to know."
She rolled her eyes again, and I felt like telling her that if she kept doing that, her eyes would get stuck or something. But I just smiled at her, and focused my attention back on the game.
It was the other team's ball. They were on fourth down, and I knew right away that it wouldn't be their ball for long. It sailed into the air, and they scattered, looking like giant black and orange bees.
I searched around for Greg. He was running up the field, his arms thrown over his head. I had never seen him move that fast. I couldn't stop cheering. The ball grazed his fingertips, and then something happened.
I was sure there was going to be a lot of cheers coming from behind me, but it was silent. It took me a moment to figure out what was going on.
The ball landed on the field, and rolled out of Greg's reach. His fingers reached out for it, but that was all I could see of him. The rest of his body was trapped underneath three guys on the opposing team.
The referee blew his whistle and instead of cheers, there was a lot of booing.
"Fuck," I yelled. "Fuck. Fuck. Fuck."
"Do you think he's okay?" Marnie asked.
"I don't know.
Look
at him." After the three guys got their big asses off of Greg, I could see him lying on the field, still as the wind at this very moment.
"Greg!" I shouted. "Get up! Come on!"
The referee was talking. People in the bleachers were talking, some were yelling. But I couldn't hear them. I got up and ran down the bleachers, towards the field. When I reached him, I took his helmet off and smoothed his hair out.
"Hey," he whispered.
"Hey, babe. You okay?" I don't know why I asked that. It was such a stupid question, but he shook his head yes.
"Liar."